Wednesday, February 8, 2023
OPHELIE is the result of a common observation and analysis by 3org & Ardans based on their expertise in information governance and knowledge engineering.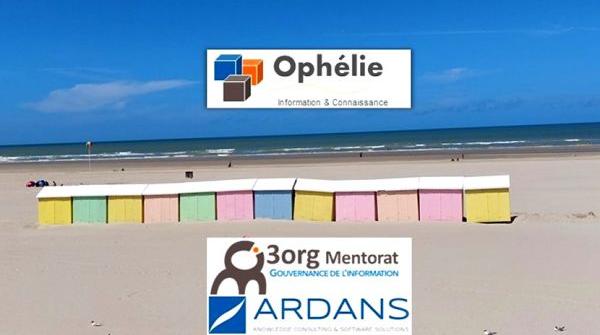 Tuesday, February 7, 2023
PARNASSE - the ultimate ISO30401 compliant Knowledge Manager framework, imagined, designed and produced by the experts of the Knowledge Management Club and Ardans.
Monday, February 6, 2023
2023, de nouveaux enjeux pour Ardans votre spécialiste du knowledge management. Découvrez le catalogue des formations KM et CIM 2023, ainsi que les prochians rendez-vous autour de la gestion des connaissa
---2023
PARNASSE: ISO30401 tool in practice delivered to Knowledge Management Club
---2022
Ardans Users' Group Meeting 7th edition at La Fabrique in Paris
AKM Loader new version to facilitate the integration of content in the knowledge base
---2021
From the KB-Scope to the ELS, the Expertise Locator System, from the mapping of expertise to that of experts.
Kalam for mapping critical knowledge, another result of the dynamics of Ardans and Polia feedback and methods
---2020
CoPBoK : Community of Practice Body of Knowledge the result of feedback from Ardans and Polia
---2019
Ardans welcomes Polia Consulting and Jean-Yves Prax in its midst
---2018
Ardans Users' Group Meeting 6th edition Pan Piper Paris
---2017
New internal organisation (KM, Lab, IT) and revamped communication
---2016
Ardans Users' Group Meeting 5th edition
Pan Piper Paris
---2015
Implementation of Ardans Information Maker version 1 in a .Net environment
---2014
Ardans Users' Group Meeting 4th edition
Maison de la Mutualité Paris
AKM v3 in production
The AKM BDES Tool (economic and social database)
---2013
Version 1 of AIM Ardans Information Maker
Realease of the IMT tool(AKM Innovation Management Tool)
---2012
Ardans Users' Group Meeting 3rd edition
Salons Champs Elysées Boétie Paris
Ardans is moving to Montigny-le-Bretonneux (Paris-Saclay)
---2011
Implementation of version 1 of Ardans Information Maker in a java environment.
Ardans delivers its first e-K.Book: JASMINE
---2010
Ardans Users' Group Meeting 2nd edition
Etoile St Honoré Paris
---2009
AKM v2 in production
---2008
Ardans Users' Group Meeting 1st edition
Versailles
---2007
The Ardans method and the Ardans Knowledge Maker tool in front of the CGE community in Namur
---2006
ICARE deployed in the automotive industry to be presented at the Knowledge Week in Nantes
---2005
Delivery of the first AKM v1licences
---2004
Employee takeover of the company
---2003
1st collection of expertise produced with AKM
---2002
Development of Ardans Knowledge Maker v0: AKM
---2001
Ardans SAS with a capital of 200 000 € then 230 000 €
---1999
Creation of Ardans SAS with a capital of €150,000